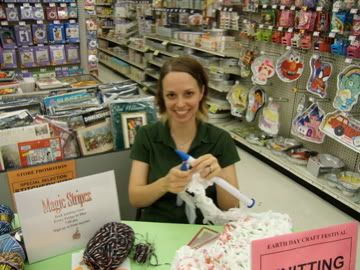 When watching Martha a few days ago, she had a segment where she showed the annual craft fair that her employees put on and there was a part where a lady was knitting with these huge needles and selling scarves that she had made with them. I loved the texture of the stitches and the way the scarves looked, so I dug out a pair of size 19 needles that I had never used ( I crochet and had preferred it over knitting) and they were half the size of the ones on the show, but I began knitting with them and some chunky yarn that I had and made a cute skinny scarf! And then another, in like NO time! I think I am hooked now! (no pun intended!) So...last night I found some size 50 needles and snatched them babies up along with some chunky yarn and also crafted a skinny scarf!
I found the picture of the girl knitting on Phototbucket and shared it here so you could see how crazy big size 50 was!
I have been inspired by the Martha show before, when a few years ago I saw Emily of "The Black Apple" on etsy, demonstrate her fabric dolls and learned about the magical world of etsy, opening my own shop soon after! Martha is way over my head most of the time, but her show is the best for craft demonstration and hands on learning!
P.S. the first picture is two of the skinny scarves I knitted, the plum in size 19, the green with size 50!