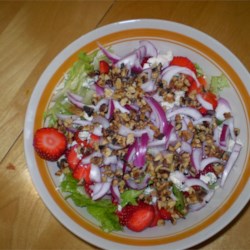 I have been enjoying some nice fresh salads lately. If you have never eaten arugula, you should give it a try. It has a distinct almost peppery taste that gives life to any salad ingredients. I have enjoyed an arugula,strawberry,shallot, walnut and blue cheese salad, which tastes just as good with sliced peaches instead of the berries. I made a dressing in a small jar with evoo, about half as much water, a shot of apple cider vinegar or lemon juice, salt and pepper and a touch of honey to mellow it out. I sometimes add a shot of dijon mustard for variety. Don't be scared to try this yourself, you just have to keep tweaking until it reaches your desired flavor. I haven't bought pre made dressings in months!
Today I made quinoa and added chopped cucumbers, sliced shallots,chopped greek olives,feta cheese, oregano (mexican oregano), then added salt, pepper, olive oil,fresh lemon juice to taste and it was also fresh, healthy and delicious.
I don't usually measure, I go by taste, but that is easy when you start with small amounts, and keep tasting and adding until it tastes right.